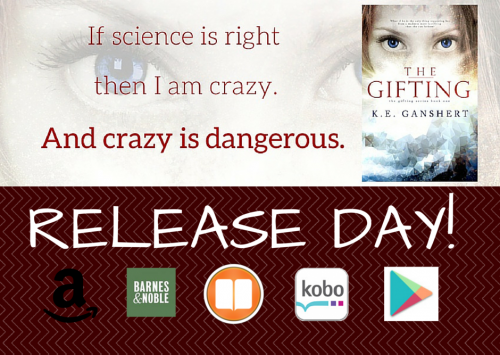 My first young adult novel, y'all! And my first indie release, too! It's available to read TODAY! (Sorry for all the exclamation points. I may be a wee bit overexcited.)
This is book 1 in The Gifting series, and let me tell you, it's been a BLAST to write. I'm currently working on edits for book 3.
If you're a fan of young adult fiction, paranormal (without the vampires or werewolves), dystopian, and the like, then I hope you'll give The Gifting a try. It's only $3.99 across most e-reader platforms: Amazon, iBooks, Kobo, Google Play. (Nook is taking a bit longer, but should be ready in the next couple of days). If a hard copy is your thing, it's also available in paperback.
What are people saying?
"Chilling from start to finish! K. E. Ganshert delivers an exciting young adult fantasy that's just as fun as it is riveting. The Gifting will keep you turning pages in an effort to unlock the mystery of this unsettled world."
~Addison Moore, New York Times Bestselling Author
"Set in a not-too-distant future that feels frighteningly like home, this novel immerses readers within the heart of Tess's fear from the very first chapter. This is not, however, a novel of horror. Guaranteed to leave you breathless, The Gifting is an eerie merging of Gothic-like dystopian mystery and YA romance within a pulse-pounding supernatural thriller. Expect to lose sleep over this book! A must-read addition to any YA reader's collection, this one's a keeper!"
~Serena Chase, USA Today's Happy Ever After blog, author of The Ryn
"K.E. Ganshert brings a fresh new voice to the dystopian romance scene for young adults. Ganshert will wow her audience with captivating prose, a well-paced plot, and just the perfect amount of swoon!"
~Heather Sunseri, author of the Mindspeak series
~ ~ ~
To stay up-to-date on The Gifting series, subscribe to the K.E. Ganshert mailing list. You can also follow me on Twitter, Instagram, or Tumblr.
Happy, happy reading!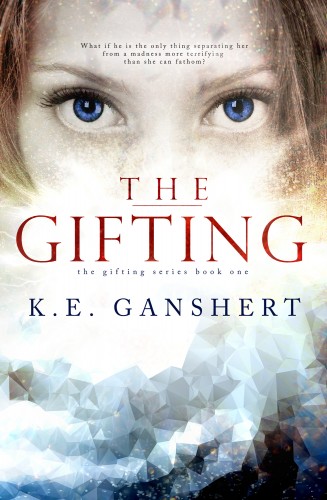 Tess Eckhart has always felt things nobody else can feel. Then the Ouija board incident happens at a high school party. Her complete freakout sends her family across the country—next to a nationally-renowned facility for the mentally ill. Worried that Tess suffers from the same illness that tormented her grandmother, her parents insist she see a psychiatrist.
Tess is more concerned about fitting in at her new school, and hiding the fact that she's seeing a therapist at the Edward Brooks Facility. She's used to whispers and stares, but when it comes to Luka Williams, a reluctantly popular boy in her class, she's unused to a stare that intense. Then the headaches start, and the seemingly prophetic dreams that haunt her at night. As Tess tries to hide them, she becomes increasingly convinced that Luka knows something—that he might somehow be responsible.
But what if she's wrong? What if Luka Williams is the only thing separating her from a madness too terrifying to fathom?