In the book of Genesis, we are given an account of creation.
In this account, God speaks creation into being.
In a matter of six days, the universe and all its complexities became.
According to Genesis, it wasn't a slow process. Or even an intricate one. 
He said, "Let there be light."
And BAM! Just like that, there was light.
He said, "Let there be land and animals and birds and fish."
And BAM! Just like there, there was land and animals and birds and fish.
It speaks of God's power and His might and His absolute authority.
Creation does not have to be a process. Not for Him.
But sometimes it is…..
The other day I had out my Bible, the amplified version. This is what I get out when I'm feeling discouraged or lost, and need that extra something-something to open my eyes and help me see. The amplified version doesn't just translate a Hebrew or Greek word into one English word, it uses multiple. If the Hebrew word connotes joy AND peace, the amplified version doesn't choose between the two. It uses both.
I don't remember where I started, but I do remember where I ended.
Psalm 139.
And what I found filled my heart to overflowing.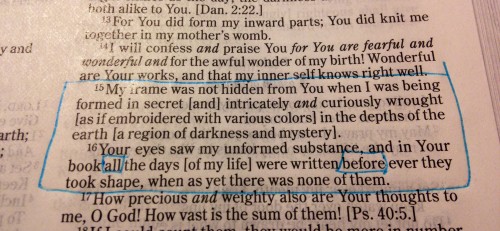 My name was not hidden from You when I was being formed in secret and intricately and curiously wrought…..
Wait for it.
AS IF EMBROIDERED WITH VARIOUS COLORS.
Okay, so I don't know a whole lot about embroidery, but I do know that the process is not a quick one.
Embroidery is intricate work that takes time and immense attention to detail.
How amazing, that the God who SPOKE the world into existence, the God who could create us quicker than it would take to snap a finger, chose to embroider us instead.
And as if that's not enough, we have verse 16.
Your eyes saw my unformed substance, and in Your book, ALL the days of my life were written before ever they took shape, when as yet there was none of them. 
God literally took my breath with this vision of Him, the creator of the universe, watching every moment of my life unfold as He embroidered me with care. Every mountain top moment and every valley. The long seasons of drought and the seasons of abundant rain. The college I would go to and the man I would marry and the books I would write and the children I would call mine. ALL the days were written BEFORE any of them came to be. Nothing that comes my way is a surprise to Him. There is no twist or turn that catches Him off guard.
He already saw it all, when He was embroidering me.
It reminded me of Ephesians 2:10.
For we are God's masterpiece. He has created us anew in Christ Jesus, so we can do the good things he planned for us long ago. 
Let those words sink in for a minute. Let them fill you with awe.
Good things.
Before the beginning of time, He gave us good things to accomplish. 
How easy it is to lose track of those things when we let the world call worthless what He has already declared BEAUTIFUL.
How easy it is to fall into discouragement, or even despair, when we forget that we are not just seen, but loved by an Almighty God.
After all, if not one sparrow falls without Him knowing, how much more does He see and love us—the bearers of His image?
Let's Talk: What helps you remember your worth and value when you're feeling worthless and devalued?
~~~~~~~~~~~~~~~~~~~~~~~~~~~~~~~~~~~~~~~~~~~~~~~~~~~~~~~~
Giveaway Time!
Every Monday, from now until its release on April 15, I'm giving away an autographed copy of A Broken Kind of Beautiful. Congratulations to last week's winner, Diane from up north! Be sure to click Already Follow or Already Like to maximize your entries . To keep shipping costs down, I can only ship within the United States. Thanks for understanding!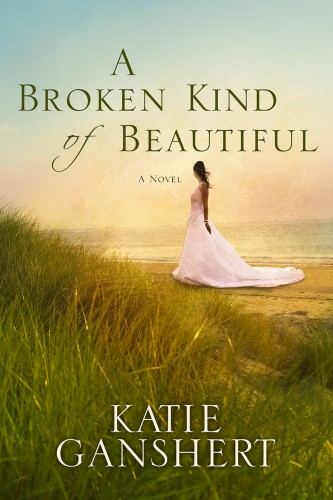 Sometimes everything you ever learned about yourself is wrong.
Fashion is a fickle industry, a frightening fact for twenty-four year old model Ivy Clark. Ten years in and she's learned a sacred truth—appearance is everything. Nobody cares about her broken past as long as she looks beautiful for the camera. This is the only life Ivy knows—so when it starts to unravel, she'll do anything to hold on. Even if that means moving to the quaint island town of Greenbrier, South Carolina, to be the new face of her stepmother's bridal wear line—an irony too rich for words, since Ivy is far from the pure bride in white. 
 
If only her tenuous future didn't rest in the hands of Davis Knight, her mysterious new photographer. Not only did he walk away from the kind of success Ivy longs for to work maintenance at a local church, he treats her differently than any man ever has. Somehow, Davis sees through the façade she works so hard to maintain. He, along with a cast of other characters, challenges everything Ivy has come to believe about beauty and worth. Is it possible that God sees her—a woman stained and broken by the world—yet wants her still?
To pre-order A Broken Kind of Beautiful, scroll down to the buy links at the bottom of this page.
Also, don't miss the Spring into Romance Giveaway, hosted by me, Becky Wade, Dani Pettrey, Rachel Hauck, Ronie Kendig, and Lynette Eason! Hop on over and enter to win one of SIX prizes.