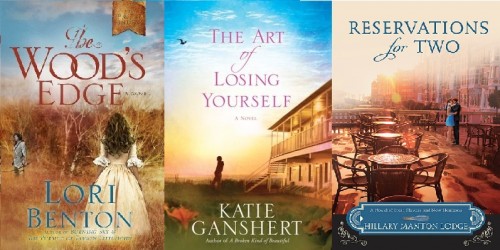 It's Release Day! Another book baby has come into the world.
Not just for me, but for my friends, Hillary Manton Lodge and Lori Benton too!
If historical is your flavor, then get thee to the nearest store and check out Lori's latest, The Wood's Edge.
If contemporary is more your style, then you really ought to pick up Hillary's Reservations for Two. I had the pleasure of reading this one for endorsement, and let me tell you, it's every bit as delectable as the first in the series, A Table for Two. I seriously can't recommend them enough. Hillary has such a way with words, her writing is smart, and the way she tackles family dynamics is absolutely superb.
Not to mention, Hillary helped me with a scene in my new release, The Art of Losing Yourself.
There are these two characters, see. Carmen Hart, and 17-year old Gracie Fisher.
During revisions, I was trying to make Gracie less punk-ish and more spunk-ish. I needed her to get suspended from school. Previously, she was in trouble for threatening a teacher. Not so endearing. Enter Hillary. She suggested something about a goat and I was sold. If you're confused, you'll have to read the story to see what I'm talking about!
I do hope you read it, too.
I'm particularly fond of this one. I think because of all my novels, this was the most difficult to write. Funny how that happens, isn't it? The things we agonize over most usually end up occupying a special place in our heart.
To celebrate this special day, I'm giving away an autographed copy of ALL FOUR of my novels–Wildflowers from Winter, Wishing on Willows, A Broken Kind of Beautiful, and The Art of Losing  Yourself.
How do you enter?
Subscribe to my quarterly newsletter.
I know, I know. Newsletters. Who has time for those?
I promise, mine are short and to the point, and there are only four per year. They start with a short (and hopefully encouraging) devotional. I share a book recommendation (and plan to start giving away a copy of said recommended book to one lucky subscriber), as well as any great book sales I know of, usually e-book related. I also share my most popular social media post from the quarter and any fun, upcoming book news.
That's it!
I will be doing more of these giveaways in the future, as I really want to start thanking my subscribers for being subscribers, and what better way to do that then with free books?
If you're already subscribed to my newsletter, then you're automatically entered in the giveaway. I'll pick one winner on Friday, April 24th using random.org and notify the winner that evening.
Until then, thank you, from the very bottom of my heart, for being a reader! Writing is way more fun when there are people to share your stories with. I'm so blessed to be able to share them with you.
If you'd like to sample The Art of Losing Yourself before making a purchase, you can read the prologue and chapter one for free by clicking here.
If you want to read more about the story, enjoy some fun bonus features, and find buy links to your favorite retailer, please visit The Art of Losing Yourself book page.
Happy reading, friends!