A little over two years ago, I sat down and started writing this story. It was unlike anything else I'd ever written. I was between contracts, see. Without a deadline, and I had this enticing idea for a young adult trilogy. I didn't plan on sharing it. I was writing it for fun. For me. For the heck of it. And let me tell you, that story brought my creativity to life.
Don't get me wrong.
I love writing the stories I've published. And Lord willing, I will continue to put them out there for as long as I have readers wanting to read them. But there was just something so new, so freeing, so energizing about this particular project. When I finished with the first book, I wanted to share it. Call it an authorly quirk. We aren't just compelled to write, we're compelled to share.
So I did.
I sent it to a few friends. I sent it to my dad. I sent it to my brother (who helped me brainstorm in a huge sorta way). I sent it to my agent who shared it with her two teenage daughters.
The response I got was overwhelmingly fun.
I decided this fun should be shared. Not just with friends and family, but with anyone who might want to give it a read. So here I am, on the cusp of the release and I feel like a little kid bouncing in my seat! Who wants to bounce with me?
The Gifting (book 1 in The Gifting series) will be available on June 1st.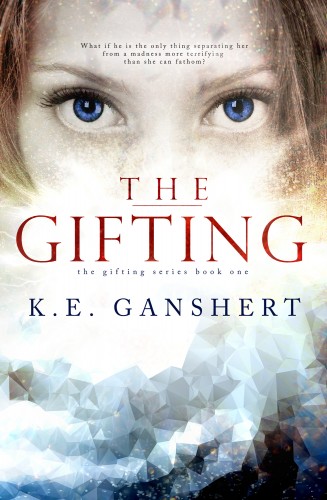 If science is right, then I am crazy.
And crazy is dangerous.

Tess Eckhart has always felt things nobody else can feel. Then the Ouija board incident happens at a high school party. Her complete freakout sends her family across the country—next to a nationally-renowned facility for the mentally ill. Worried that Tess suffers from the same illness that tormented her grandmother, her parents insist she see a psychiatrist.
Tess is more concerned about fitting in at her new school, and hiding the fact that she's seeing a therapist at the Edward Brooks Facility. She's used to whispers and stares, but when it comes to Luka Williams, a reluctantly popular boy in her class, she's unused to a stare that intense. Then the headaches start, and the seemingly prophetic dreams that haunt her at night. As Tess tries to hide them, she becomes increasingly convinced that Luka knows something—that he might somehow be responsible.
But what if she's wrong? What if Luka Williams is the only thing separating her from a madness too terrifying to fathom?
~~~
"Set in a not-too-distant future that feels frighteningly like home, this novel immerses readers within the heart of Tess's fear from the very first chapter. This is not, however, a novel of horror. Guaranteed to leave you breathless, The Gifting is an eerie merging of Gothic-like dystopian mystery and YA romance within a pulse-pounding supernatural thriller. Expect to lose sleep over this book! A must-read addition to any YA reader's collection, this one's a keeper!"
~Serena Chase, USA Today's Happy Ever After blog, author of The Ryn
To learn more, visit The Gifting book page on my website! And if you want to stay up-to-date on the latest in this exciting adventure of mine, make sure to subscribe to the K.E. Ganshert email list. Or follow me on Twitter and Instagram, where I'm sure I'll be sharing the fun as I go.
Do you enjoy reading YA?